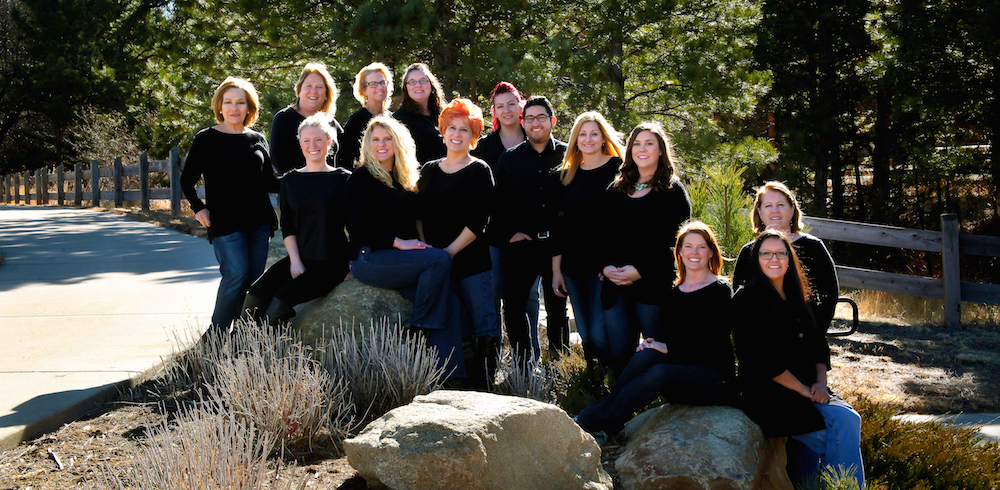 ---
Front office
Trina
Scheduling Coordinator
I love building relationships with our patients, families, and our team. I really like seeing the excitement on a person's face the day we remove the braces and the patient sees the end results: Those joyous smiles are a wonder! I work at the front desk where I welcome patients, check them in, accept payments, and schedule visits. I also answer the phones and keep the area organized.
My best friend and I have been married for more than 20 years. We have three amazing children: a daughter and two sons, as well as a cat and two dogs. As a family, we enjoy snowboarding and hiking, and I love to paint, craft, and decorate. My husband and I also enjoy volunteering with 16Ways Foundation and Children's Miracle Network Hospitals.
---
Taylor
Scheduling Coordinator
It's a great feeling to see people coming through our doors with big smiles on their faces. Everyone is excited to show us how well their smile is coming along and just as excited to tell us the latest news! We have a welcoming, family-friendly office and our patients are our friends: I can't imagine a happier environment. I greet and check in patients, update their records, and when they're done I check them out and schedule their next visit.
I'm a native Texan but my heart belongs to Colorado. Breckenridge is my favorite place in the state. When I'm not working, I love listening to live music and going to the movies.
---
Christy
Scheduling Coordinator
I really enjoy getting to know our patients and families. It's a joy to watch people's smiles grow and see each person gain confidence through the help of Dr. Wiggins and our amazing team! I can be found sitting behind the front desk on alternating Mondays and Fridays. I truly enjoy the opportunity to serve our community in an environment that's fun, relaxed, and down-to-earth. Being surrounded by smiles all day is an added benefit!
Outside of Summit Orthodontics, much of my time is spent with my family. I've been married for 25 years to my wonderful husband Steve. We have two beautiful daughters, Ashley and Hannah.
---
Clinical Team
Rebecca
Clinical Assistant
It's so much fun to see the changes in each patient during treatment. Not only does their appearance change, but people become so much happier and outgoing! I love being part of helping people gain confidence through a beautiful new smile. I assist Dr. Wiggins as she cares for patients. Sitting chairside, I act as a second pair of hands for her while making sure our patient is comfortable and relaxed.
When I'm not helping patients, I enjoy time with my family. My husband Chad and I have been married for almost 20 years, and we have three young daughters: Emily, Katherine, and Luciana. We also have two dogs. I love reading, watching movies, and hanging out with my little ladies.
---
Kelli
Clinical Assistant
I truly enjoy taking care of our patients, especially becoming their friend while helping them achieve beautiful smiles! I assist Dr. Wiggins as she helps people develop the smiles they have always wanted. I help with putting braces on, and then, when treatment is complete, taking them off. Seeing our patients' delight when they behold their new smile is the best experience! I love working in a caring and fun atmosphere, with a wonderful and happy doctor and team.
When I'm not at work I can often be found camping with my husband and two kiddos, Nicole and Liam. We love colorful Colorado!
---
Kristina
Clinical Assistant
I love building relationships with patients as we work toward the shared goal of a beautiful, healthy smile that fills them with confidence. I always look forward to deband appointments: seeing those amazing finished smiles and our patients' happiness at all they've accomplished! I help patients during visits as Dr. Wiggins assesses their progress and makes adjustments. I love working in such a fun, supportive environment, with the best doctor and team!
My other joy in life is my children: I love being a mother of three!
---
Lauren
Clinical Assistant
I love seeing smiles transform and the confidence that treatment builds in our patients. We serve a wonderful community and I am glad to help my neighbors develop healthy, beautiful smiles that make their lives happier! I work in the clinic, to assist Dr. Wiggins with various orthodontic procedures. While helping her, my focus is always on our patient. I tell the patients what we're doing, check that they're comfy, and encourage them to keep up with their home care.
My time off is spent with my partner, who was my high-school sweetheart, and our fur baby, Jade. I'm a lifetime Denver Broncos fan and I love camping and extreme couponing.
---
Sarah
Clinical Assistant
I love connecting with our patients, hearing about their latest adventures, and making sure they're comfortable during visits. Our patients, no matter their age, always have something new and interesting to share: We spend a lot of time laughing together. I work in the clinic, where I'm a chairside assistant. I help Dr. Wiggins as she tends to our patients and support our patient at the same time.
I'm new to Colorado, having moved here with my husband from California in 2016. We love exploring the mountains and all the beauty Colorado offers! We have a rescue pup, Chance, who's enjoying exploring with us. My husband and I love going to the movies, playing games, and hanging out with family and friends.
---
Shelly
Clinical Assistant
I am always excited to meet our new patients and start building friendships with them, just as much as I look forward to catching up with our established patients! It's a lot of fun to hear what's happened in people's lives since their last visit and to see the changes in their smile and confidence. I assist Dr. Wiggins with adjusting braces and wire changes. I also make appliances, take X-rays, and sterilize our tools. I'm always encouraging patients to keep their mouth clean and healthy during treatment, too!
My other "job" is raising my two remarkable sons.
---
Administrative Team
Lisa
Office Manager
I love working for Dr. Wiggins and with our amazing team. I appreciate everyone for who they are and what they offer to our environment and our patients and families. Together, we create incredible smiles and ensure patients have the best treatment experience! As the office manager, I maintain order and balance in the practice. It's essential we're well organized and everything flows smoothly so our patients have enjoyable visits.
When I'm not working, I enjoy time with my family. I've been married for more than 30 years and have a grown son who's currently attending CU.
---
Karen
Treatment Coordinator
I am lucky because I get to meet every new patient and the family at the start of their orthodontic journey. It's fun to learn about each person's life and watch that person gain confidence and self-esteem as they change their smile. I walk patients and parents through the complimentary consultation, review their proposed treatment plan, and answer their questions. I strive to make sure their orthodontic journey is a breeze!
Outside of work, I love music, dancing, the Colorado mountains (I'm a Colorado native!), and traveling. Of course, time with all ten of my grandchildren is a priority!
---
Dominic
Financial Coordinator
I love working in a fun office where you see patient's smiles transform as well as where you can always hear Dr. Wiggins' crazy, contagious laugh. I have had the opportunity to learn many skills during my time at Summit Orthodontics. I enjoy the financial aspect of my job, but also enjoy being able to see new patients as a treatment coordinator and in the clinic from time to time as well.
In my free time I enjoy going out with friends, concerts, camping and seeing what our incredible state has to offer."
---
Becki
Marketing Coordinator
I love working with an exceptional team and spreading smiles in our community. Dr. Wiggins creates beautiful smiles and she makes patients laugh! I'm responsible for marketing Summit Orthodontics in Parker and the surrounding area. I also handle charity contributions, doctor referrals, newsletters, social and private events, our website, and social media. It's very rewarding to teach people about orthodontics and how they can change their lives!
I'm married and have two beautiful sons. My oldest is getting ready to go off to college and my youngest is a singer. I've traveled the world: Austria and Japan are my favorites! In my spare time I continue to travel, love to draw, and am a college football fanatic … Go Gators!
---
Peggy
"Senior Advisor for the Wiggins Administration"
I love getting to know our patients and families and developing strong relationships with them. Our patients are some of the best people in the world and I'm glad to be part of giving them a life-changing smile! I wear many hats at Summit Orthodontics: I offer chairside assistance when needed. I also work in scheduling, arrange training, assist with marketing, and am Dr. Wiggins' personal assistant, too. I'm busy, but never too busy to stop and chat!
I've been married to my high-school sweetheart for almost 50 years. We have three children and five beautiful granddaughters. We love supporting our granddaughters' sports and activities, and we enjoy year-round activities outdoors, too.